Continue reading Sheringham: A Story to Discover
1846 – A little town on the coast of the Juan de Fuca strait on Vancouver Island, British Columbia, Canada is named Sheringham.
1893 – The first post office is built in Sheringham. The town name is shortened from Sheringham to Shirley so that the name can fit on a postage stamp.
1896 – A schooner named "Favorite" is built and travels along the salish sea of the Juan de Fuca strait.
1920-1930 – Prohibition-era. The Juan de Fuca strait is an active rum running route, smuggling whisky from Canada into the United States.
1935 – Jordan River Hotel is built at a river mouth down the road from the town Shirley. The hotel gains a "wild west" reputation, being the nearest liquor establishment to the rum running area, and rumored to have a still operating in the cellar.
1984 – Jordan River Hotel burns to the ground.
2003 – Jason moves into a house close to Shirley, B.C. and unearths a number of old glass moonshine bottles from a dilapidated moonshine shack in the woods. Jason builds his first still.
2009 – Jason and Alayne are reacquainted, after having known each other in their younger years.
2011 – Jason and Alayne get married. Jason works as a private chef. Alayne runs her own business in sales and marketing.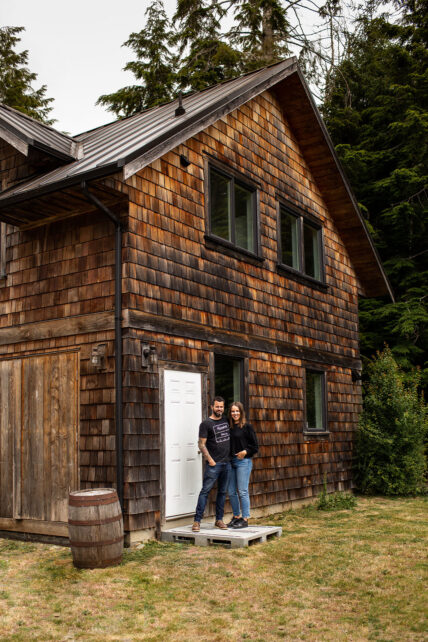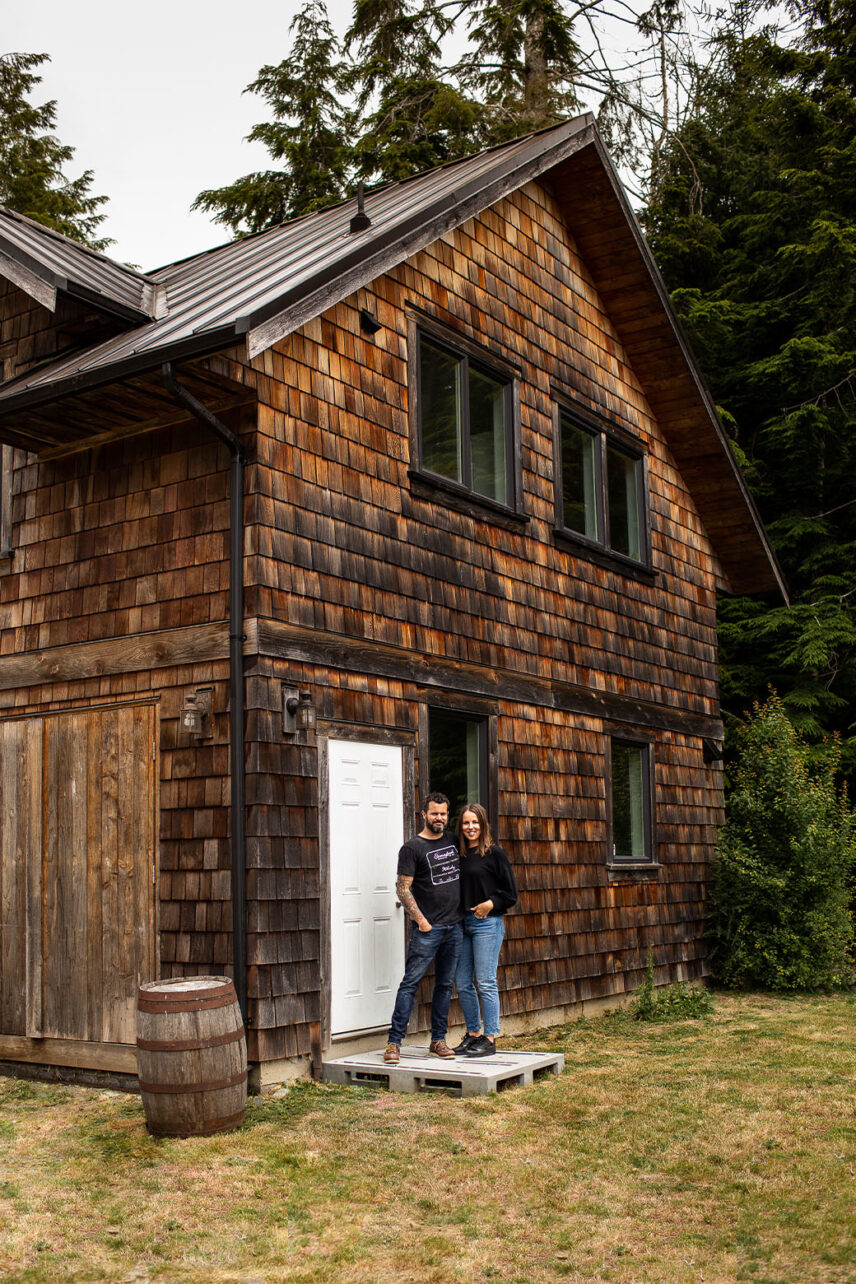 2012 – Jason and Alayne buy 11.5 acres in Shirley and build a house nestled in the woods, overlooking the Juan de Fuca strait.
2015 – Inspired by the area's history and local treasures they found along the way, they turn their garage into a distillery and begin crafting their own spirits.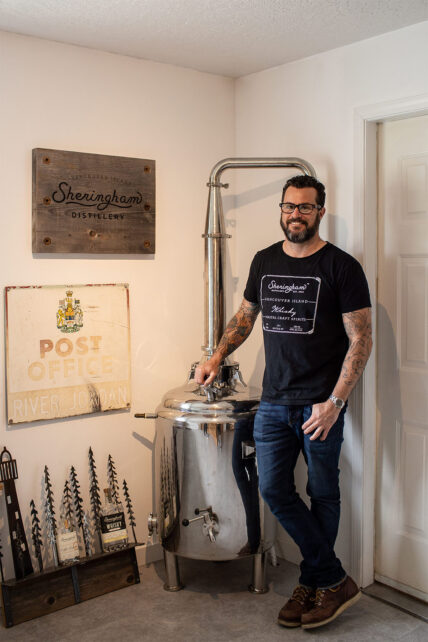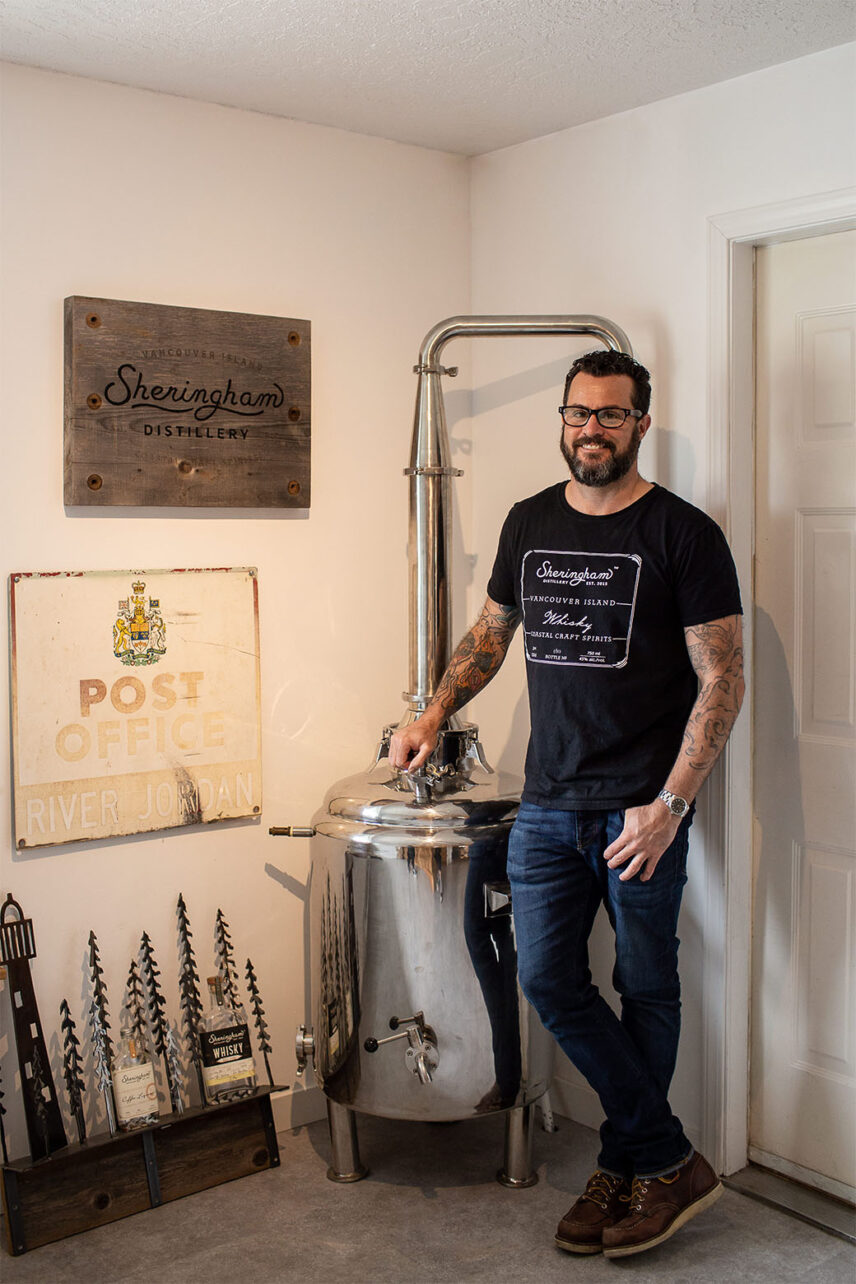 2015 – Sheringham Distillery is founded by Jason and Alayne.
2015 – Out for a stroll on their favorite beach, Jason and Alayne are inspired by the cool rainforest and salty sea breeze, and come up with their first and soon to be flagship gin.
2022 – You'll find the "Favorite" schooner embossed on our glass bottles, inspired by the prohibition-era moonshine bottles Jason discovered. Our name Sheringham pays homage to the region's original name and history. Seaside Gin encompasses Sheringham's journey, a taste of the West Coast and where it all began.