Continue reading Cold Weather Cocktail Roundup
Here on the West Coast, the ocean is broody and beautiful, the rainforests are extra green, lush and wet, and the temperature's getting cooler. It is officially the coziest time of the year!
Cue crisp beach walks, the crackling of a bonfire or wood stove…chill tunes…special get-togethers…and delicious, warming cocktails. These recipes are perfect for a Fall or Winter day, and for the holidays!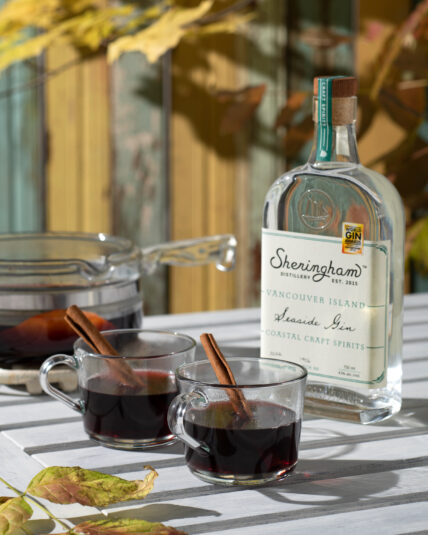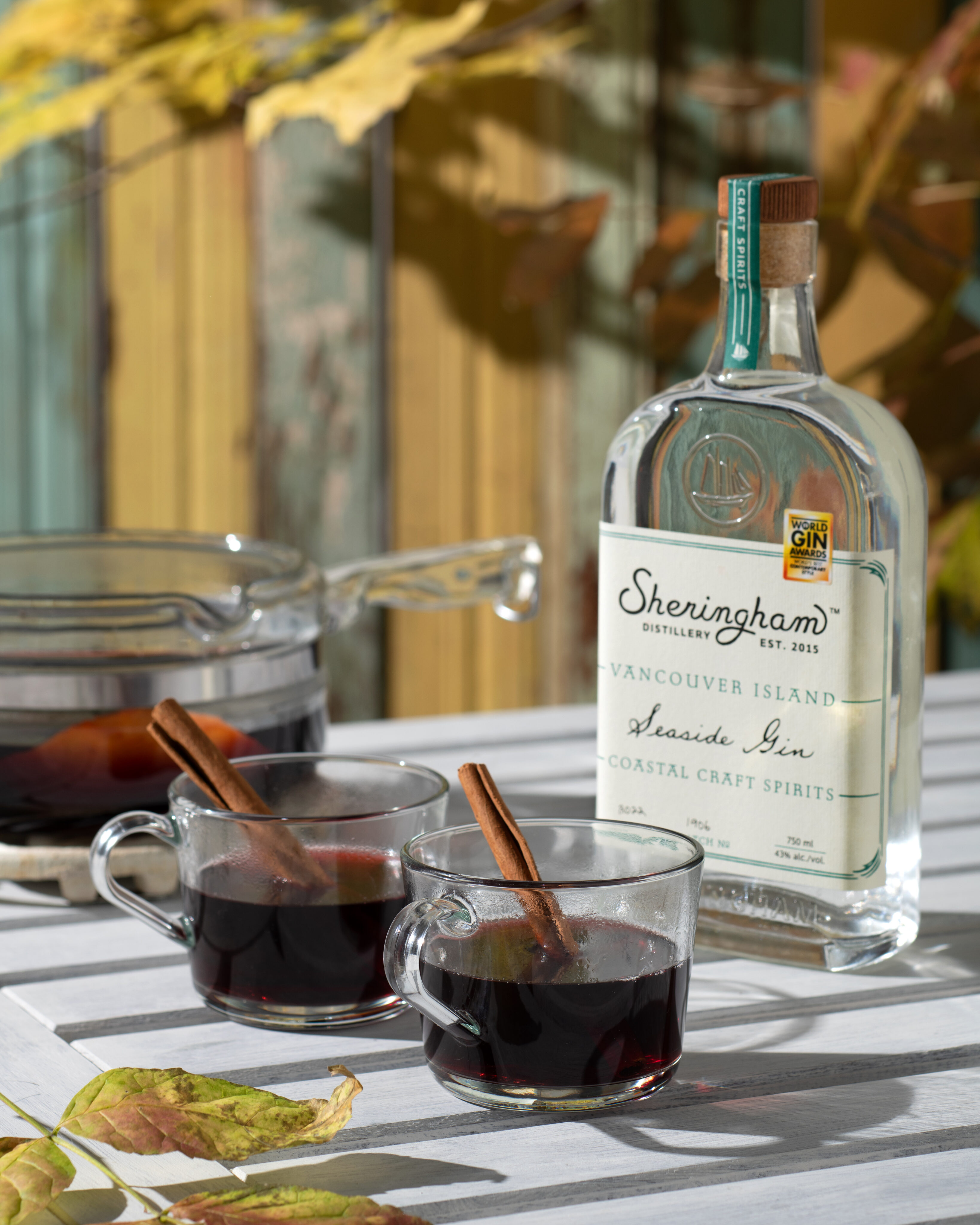 Batched Mulled Gin
What's better than a Seaside Gin recipe? A Seaside Gin recipe that serves your friends too! Batched cocktail recipes are a sweet party trick we use often. Great for when you don't want to sacrifice socializing for prepping cocktails all night–but you still want to enjoy delicious cocktails. One simple prep before you head out the door so that when you get to the party you can just enjoy your time. This Batched Mulled Gin recipe is festive, fruity, warm, and spiced.
Ingredients:
1 Bottle BC Pinot Noir
4 oz Sheringham Seaside Gin
½ oz Simple Syrup
4 Star Anise Pods
2 Long Grapefruit Peels
8 Dashes Peychauds Bitters
Method:
Add all ingredients to a pot over low heat. Heat until almost hot but do not allow
ingredients to boil.
Glassware:
Punch Cups or Mugs
Garnish:
Cinnamon sticks
Serves:
4-6 people
---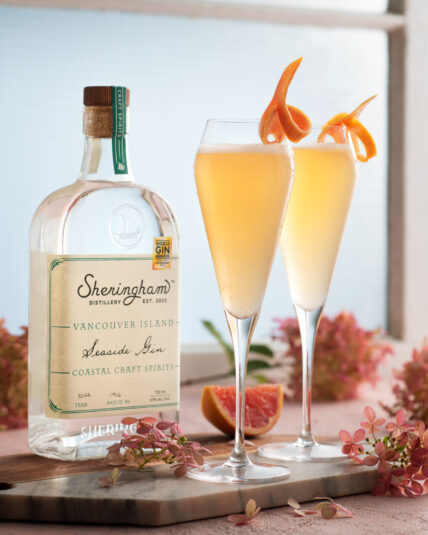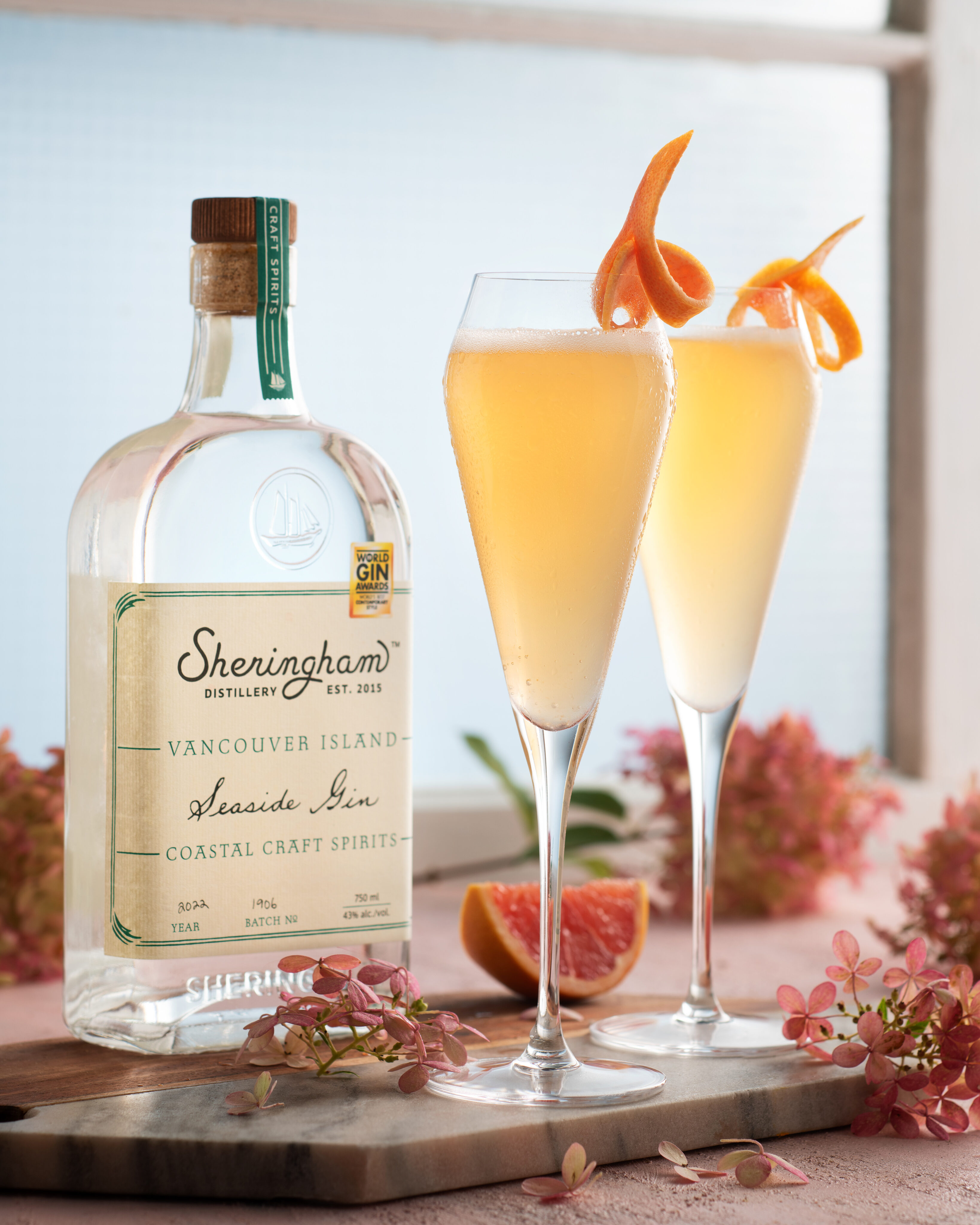 Fall Mimosa
Mimosas are appropriate for any time of day and any occasion…right? This recipe takes mimosas to a whole new level. Refreshing, sparkling grapefruit with a touch of ginger heat comes into perfect balance with honey syrup sweetness.
Ingredients:
1 oz Seaside Gin
¼ oz Bols Ginger Liqueur
1 oz Grapefruit Juice
¼ oz 2-1 Honey Syrup
3 oz Sparkling Wine
Method:
Add all ingredients into shaker tin reserving the sparkling wine for last. Shake to chill and dilute, double strain into champagne flute. Top with sparkling wine and garnish with a grapefruit twist.
Glassware:
Champagne Flutes
Garnish:
Grapefruit Twist
---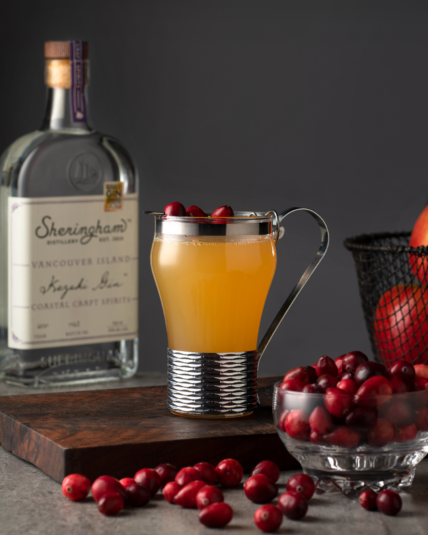 Hot Apple Cider
But make it gin? The recipe below is what happens when two beautiful worlds collide: hot apple cider and gin. We love sipping on this delicious apple-tart, warm and spiced gin cocktail when the sun is coming down and the day is done. There is something so nostalgic about sipping on a Hot Apple Cider at this time of year!
Ingredients:
1 oz Kazuki Gin
¼ oz Lemon Juice
¼ oz Almond Syrup *
4 oz Dry Apple Cider
1 Dash Angostura Bitters
* Almond Syrup: 9.75 oz water, 300 grams white sugar, 0.25 oz almond extract. Add all ingredients to a pot over low heat, stir until sugar dissolves. Strain into food safe container and store in fridge.
Method:
Add all ingredients to a pot over low heat. Heat until almost hot but do not allow ingredients to boil.
Glassware:
Specialty Coffee Glass
Garnish:
Cranberries